Things to do!
Silverwood Park is a mix of agricultural fields, woodland, and Rice Lake shoreline covering approximately 300 acres. It is open from 5:00 a.m. to 10:00 p.m. daily, unless otherwise posted. 
Because of the unique glacier-formed landscape, and the extensive work done by volunteers to remove invasive species and restore the oak savanna, Silverwood Park has become one of the Dane County Park system's recreational gems.
Almost five miles of trails wind through the forest and fields. Mountain biking and off-trail hiking are not allowed.
Restrooms are available in the visitor's center when it is open. Portable toilets are also available by the parking lot.
Links:
Silverwood Overview Map
Targeted Plant Community Types
Nature trail
The Silverwood Educational Nature Trail is sponsored by Edgerton Gifts for Kids and Friends of Silverwood Park. Download the Nature Trail Guide and follow the station directions. Install a QR Code reader app on your mobile device and search for additional information by scanning the QR codes printed on the guide.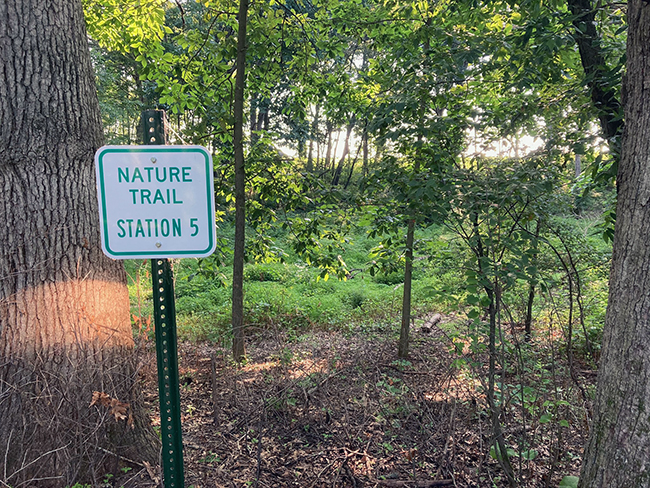 Dog walking
Dogs are welcome at Silverwood County Park. The rules for all Dane County Parks apply. Dogs must be on a leash that is no more than 6 feet long, non-retractable, and held by a person at all times. Dogs must be under the immediate physical control of a person at all times. Dogs must be licensed (purchased through the City of Madison Treasurer's Office) and must have an up-to-date rabies vaccination. Dogs must be smiling when finished enjoying the park.
Horseback riding
Horses are welcome, too! Enjoy fields and woods with very few rocks, easy trailer turnaround, and great views along 4.6 miles of trail. Thanks to the Midwest Horse Council, Silverwood Park has a hitching post and mounting blocks to welcome equestrian recreation. A Horse Trail Permit (daily or annual) is required for trail use with your horse and may be purchased online.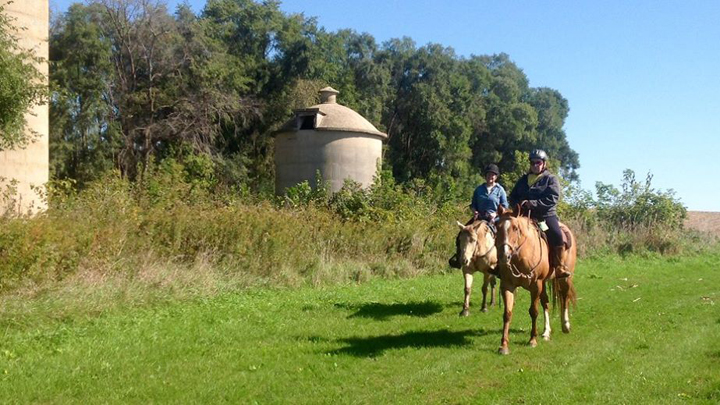 Fishing
Fishing is good on Sweet and Rice Lakes. The Dane County Sweet Lake boat launch area off of Highway 106, is part of Silverwood Park. Boats with motors are prohibited on both lakes, although electric trolling motors can be used. Better yet, fish Rice Lake from a kayak, canoe or shore, all of which can be accessed from trails in Silverwood Park. Ice fishers may also access the ice from the park trails in the winter months. A fishing license is required in order to fish all waters in Wisconsin, which pays to keep the lakes healthy and productive! Remember to pack out all you pack in – don't litter and keep the trails and waters clean! .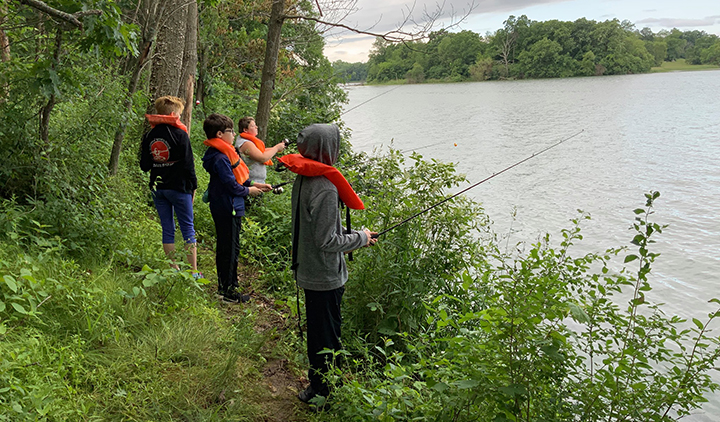 Kayaking and canoeing
Rice Lake is 117 acres in size and approximately 8 feet deep at its deepest point. Most of the shoreline is wooded, offering an immersive natural experience. Boaters may launch from the boat launch on Highway 106 just west of the Silverwood Park entrance. Within the park a kayak/canoe rack is located at the water's edge in the southwest corner. Access it by the trail along the park's southern boundary.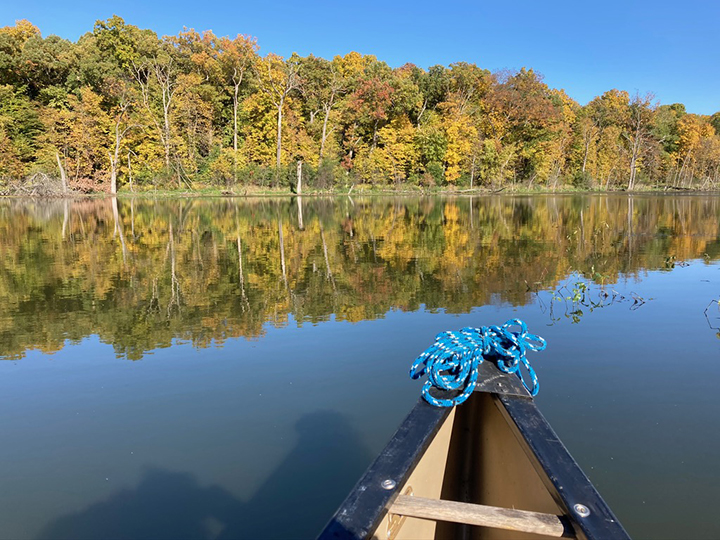 Seasonal activities
The combination of agriculture and forest make Silverwood Park an ideal locale for recreation in all seasons. The trails are ideal for hiking or horseback riding. Because of the cultivated crops and pollinator gardens, wildlife abounds for birdwatching and nature photography. 
You're likely to find a den of foxes at play or a family of deer bounding through the understory. Butterflies and birds make the gardens and farm fields their ballroom. 
Picnic tables by the Stonehouse Visitor's Center welcome picnickers. No grills or fires permitted.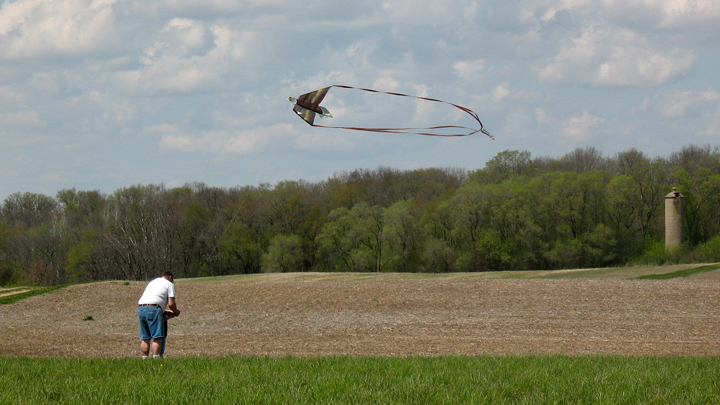 In winter, the woods and meadows lend themselves to the silent sports of cross-country skiing and snowshoeing. The lake typically freezes well for ice skating. Snowmobiles are not permitted in the park. Winter, spring, summer, or fall, Silverwood Park has something to offer.
Birding
Birdwatching can be a fascinating hobby, and the area around Rice Lake is a particularly good place to spot the local and migratory birds of southern Wisconsin.  From American Bitterns to the Woodpeckers (both downy and hairy), from the blue flash of an Indigo Bunting to the orange sparkle of a Baltimore Oriole, you might get lucky and see it here. 
Visit ebird.org to see a list of sightings at Silverwood Park.
Snowshoeing and cross-country skiing
The trails at Silverwood County Park are not yet groomed for skiing by the Dane County Parks system, although we hope they soon will be. In the meantime, enjoy skiing that does not require a park permit. Snow shoeing is another easy way to enjoy the Wisconsin woodland in winter. The rolling landscape of the park offers just enough of challenge. You'll find no white-knuckle black-diamond runs here.

Foraging
Dane County Parks encourage foraging for mushrooms and berries but not wildflowers).
Geocaching, scavenger hunts and more
Enjoy games of discovery solo or in a group. The Friends of Silverwood Park are happy to help you bring your club or group here for a themed experience in nature.
In Geocaching, participants all over the world use a GPS receiver or mobile device to hide and seek containers at specific locations marked by coordinates. We welcome fans of geocaching to bring the activity to Silverwood Park. Dane County Parks no longer requires a special permit for Geocaching. Find rules and contact information here. 
Things not to do
Bicycles are not allowed on the trails. 
The lakes adjoining Silverwood Park are designated as "Non-gas Motors Only".
Dane County Parks does not allow picking wildflowers.
No fires or open flames (barbecue grills, etc.) are permitted.
Hunting is not permitted within Silverwood Park, in accordance with the wishes of Irene Silverwood, who donated her family's farm for our enjoyment and education. 
We want your ideas
Do you have a recreational activity you'd like to see at Silverwood County Park? Contact us.