Support Your Local Earth
Silverwood Park is about thinking globally and acting locally. When we suggest "Support Your Local Earth," we focus on the potential for agriculture to adapt to address climate change, decades of dead soils, and the need for diversification to support innovation in the farm economy.
There's something to do here for every age, ability, and interest. Recreational opportunities include hiking, riding horses, swimming, fishing, boating and gardening. Agricultural opportunities encourage learning by doing. You could become a Grower Partner or volunteer with a team of park supporters to restore the landscape, maintain the farmstead or raise funds for the park. 
Make the beauty of our rural landscape the backdrop for your event or workshop. Spaces for rent include the Stone House Visitors Center for inspiring meeting space and the North Shed for hands-on agricultural activities. Looking for germination of new ideas? Plant the seeds here.  See the Building Use Agreement more information. To make a reservation, contact us.
Agricultural education is at the heart of what makes this park unique. Soil science, etymology, forestry, water quality, ornithology–it's all going on at Silverwood Park. Our master plan calls for a research greenhouse and agricultural education facility in the future. The park may someday include sleeping cabins or a dormitory for overnight stays.
Explore and enjoy the forests and fields. Current vegetation includes 60 acres of woodland, 5,000 feet of transition shoreline along Rice and Sweet Lakes, 6 acres of grassland, and just over 200 acres of farmland. The terrain is rolling with steep banks rising from the lake shorelines, resulting in beautiful overlooks of Rice Lake and the adjacent countryside.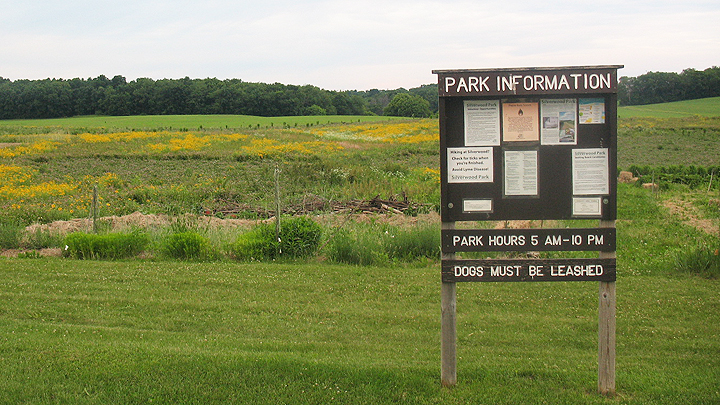 Read about the board and volunteers here.
View a 5-minute video about Silverwood Park.
Donated by the Silverwood Family
In 2001, former Edgerton High School Teacher Irene Silverwood donated her nearly 300-acre farm to Dane County's Parks Division for use in recreation, conservation, research, education, and cultivation. Irene Silverwood specified that the park remain a farm and be dedicated to agricultural education. The farm had been owned by the Silverwood family since 1870. Irene Silverwood, who taught business education at Edgerton High School for 43 years, said on the occasion of the land's dedication as a Dane County Park, "This farm is history to us. Now this property is always going to be here for everybody."
The county continues to rent much of the land to local farmers, but has invested $300,000 to prepare the park for public use. Buildings have been restored and repaired, prairies planted, trail systems created, and garden plots developed. The Friends of Silverwood Park coordinate agricultural education programs using the property's many resources.