Frequently Updated Park News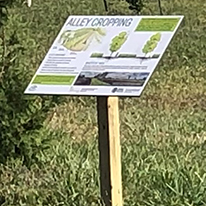 Check out the new informational signs at the park!
Come see our latest addition for park visitors--signs explaining the Stonehouse history and the Agroforestry Demo Farm! Here's a blog post about the signs. Thanks, everyone who helped get this done!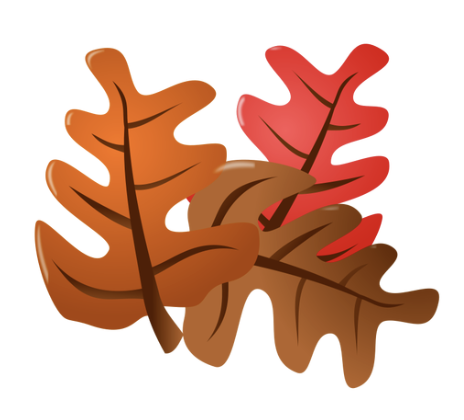 Thank you, everyone who helped make Harvest Fest and Grower Field Day a success!
Thanks to Dan Riley for music, Boy Scouts of Troop 422 for food, vendors of local artisan crafts and produce, and the volunteers who helped with the Silent Auction, Demonstrations, and everything else that went into a successful Harvest Fest and Grower Field Day!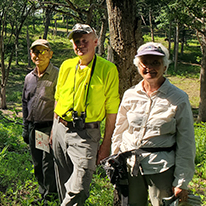 Annual INVADER CRUSADER AWARD Received from Wisconsin Invasive Species Council and the WI DNR
Silverwood Volunteers Rita Fox, Mike Meier, and Yoshi Saimi were recognized with the INVADER CRUSADER award, among 13 awards presented on Wednesday, June 7th at the Horicon Marsh Visitor Center to individuals or groups from all over Wisconsin. Congratulations to our Woodland Restoration Team! Read a blog post about the work that won the award.
.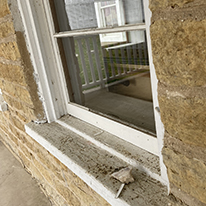 Stonehouse Visitors' Center window replacement: We met our goal to raise $10,000! Thank you!
The Friends group is moving forward with improvements to the outdated windows in the historic Stone House Visitor Center!  We met our goal and installation will begin on June 28th. A big Thank You! to everyone who helped!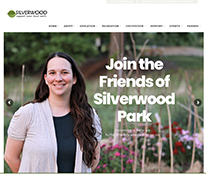 Volunteer needed to maintain & update our website
The Friends of Silverwood Park website is built on a WordPress template  and hosted by DreamHost. We need someone to keep them functioning smoothly. This involves:
Updating security software and plugins, especially responding to time-sensitive needs
Monitoring for uptime, troubleshoot errors
Adding fresh content
Monitoring for broken links.
Using Google Analytics, SEO, etc. to monitor and increase site traffic
This would be a great opportunity for a young person interested in web development to build experience and earn testimonials that will with finding a job in this field.
Interested? Contact sarah@silverwoodpark.org.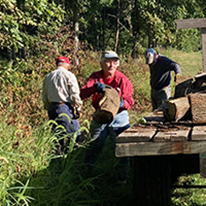 Woods Conservation Work: What's New?
Rita Fox is our woodland restoration manager. Volunteer to work with her team, which often meets on Friday and Saturday mornings, starting at 9 am.
We'll need help with cutting thistle out of the PRAIRIES over the next few weeks, before it goes to seed.
We need certified volunteers to chainsaw brush and trees for removal, and other hands are needed to pile the cuttings. This is done from late summer until we get at least an inch of snow on the ground to burn the piles.
We prepare for the Controlled burn in the spring, and follow up with seeding in areas that don't need lots of spraying for invasives. We have also created piles to the South of the burn unit until spraying time arrives. We do apply chemicals using Backpack Sprayers (Garlon mixed with a little Escort is our usual formula). We are investigating an Organic Spray for possible use. We hand pull some invasives like garlic mustard and cut hedge parsley and yellow clover. Mike is our guide for spray applications as he knows about prairie plants (has his own prairie at his residence) and Savanna needs.
Call Rita at 715-623-7277 to find out more.  If you come out to the park to work with the restoration team, be sure to bring water, and snacks, dress appropriately for the day's weather; and wear your work gloves.
Read a blog post about the woodland restoration work done in Fall 2022 here.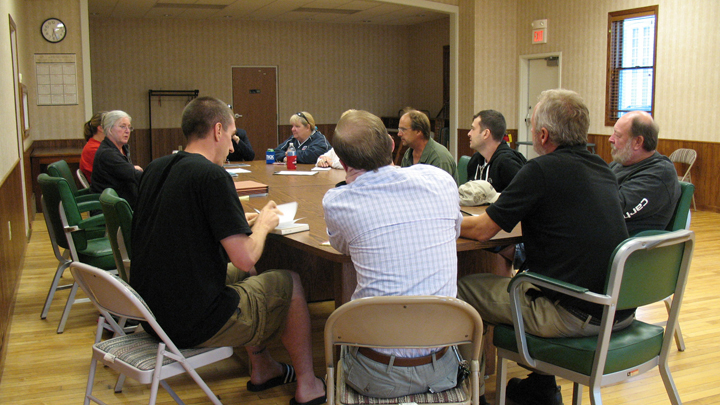 Open meeting announcement: Board Meeting November 9
Board meetings are open to the public. Stop by and find out what we're all about! The November board meeting of the Friends of Silverwood Park is scheduled for:
Place:  Stonehouse Visitor Center
Time:  5:30 p.m.
Date:  November 9, 2023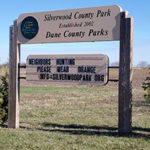 Volunteer with the Friends of Silverwood Park
Did you know that volunteering feels good--and is good for you? One of the best ways to get an idea about volunteering with the Friends of Silverwood Park is to visit the park and do a "walk and talk" with a Board member. You can contact us at info@silverwoodpark.org to set that up.
Of Interest to our Grower Partners....

Marbleseed, formerly known as MOSES
Marbleseed has announced the launch of its brand new website, to support its new name and branding. Marbleseed is the organization formerly known as the Midwest Organic and Sustainable Education Service (MOSES). For over thirty years, Marbleseed/MOSES has been working in community with the Midwest's regenerative and organic farmers. Now they are continuing that work and leveraging their social capital to grow the region's organic farming movement. The name has changed, but the work remains the same: farmer-led and rooted in organic. Visit the website to find resources, programs, events, news, and more.
Building Community Online Marbleseed is collaborating with partners to create the Ag Solidarity Network, a platform of knowledge exchange, advancement, and sharing of practices that work for farmers to succeed. The platform will be free for farmers to use: post pictures, ask questions, and receive notifications. The platform will centralize conversation threads between the various groups and facilitate networking.
Marbleseed Podcasts Dive into the most relevant topics of sustainable and organic farming through interviews with farmers and ag professionals with Marbleseed Podcasts which include MOSES Organic Farming, In Her Boots, and coming in 2023: a new show to build awareness around the 2023 Farm Bill and amplify the stories of farmers of color, beginning farmers, and veteran farmers.

Watch Ricardo Salvador's Perrenial Farm Gathering Keynote Speech
Savanna Institute Upcoming Events
About Savanna Institute
Our partner, the Savanna Institute, is laying the groundwork for widespread agroforestry in the Midwest. Just take a look at the demonstration plantings on the right as you drive into Silverwood Park to see their work in action. The Savanna Institute hosts frequent events--see Event Listings here.
If you know of upcoming events of interest to growers, gardeners, and fans of regenerative agriculture, please let us know!