Frequently Updated Park News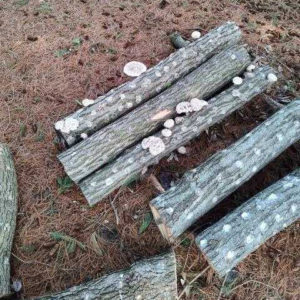 Have a Mushroom Log from 2021? Check for growth!
If you purchased a mushroom log in 2021, you might be about to dine on delicious fresh Shiitake or Oyster mushrooms! These logs are from 2021 and should be producing Shiitake mushrooms. Check your logs, everyone. If your are not seeing fruit, soak your log well! They can be forced to fruit. See the instruction sheet we provided or go to Field and Forest website...If questions, call Rita Fox at 715-623-7277.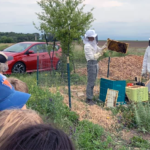 Mark Your Calendars for these Upcoming Events at Silverwood Park
Growers Field Day August 20th. 1:00-4:30 pm. Led by the Silverwood grower-partners actively farming on site. Learn about what they are doing to grow healthy food and improve the soil on their small ½- and 1-acre plots, visit the agroforestry demonstration site, and walk the site's forest and prairie/savannah. For more information see this Event Listing.
Harvest Fest Sept 17,  11 to 4. Nature, Vendors, Presentations, Music, and Fun!
Visit the Events Page for more about what's going on at Silverwood Park.
Announcements for Park Volunteers
Contact our volunteer coordinator at volunteer@silverwoodpark.org  You can also learn more about volunteering at Silverwood Park here. Create an account and you can see a full volunteer calendar at Track It Forward, our volunteer management platform. Click here to get started.

Volunteers needed for Edgerton High School Cross Country Meet September 15
Volunteers are needed to help Friends of Silverwood Park host the Edgerton High School Cross-Country meet on  Thursday, September  15.  Help is needed during the early afternoon with setting up and marking off all of the gardens.  Help is also needed to assist with directing spectators to safely and appropriately park.  Contact Barb Gausman at 608-449-4915 for more information.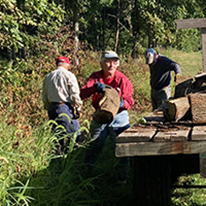 Woods Restoration work continues!
Woodland restoration work is happening on Saturdays. Volunteer to work with the team! Call Rita at 715-623-7277 to find where to meet at 9 am on Saturdays. Bring water, and snacks, dress appropriately for the day's weather; wear your work gloves.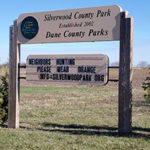 Volunteer with the Friends of Silverwood Park committtees or Board
Did you know that volunteering feels good--and is good for you? The following groups have openings for volunteers:
The Board of the Friends of Silverwood Park: Email Katie Whitten for more info.
The Agriculture/Education Committee: Email Barb Gausman for more info.
The "BuFFO" Committee (that's Budget, Finance, Fundraising, and Outreach): Email Sarah White for more info.
The Events and Facilities Committee meets regularly; contact Rita Fox for more info.
One of the best ways to get an idea about volunteering with the Friends of Silverwood Park is to visit the park and do a "walk and talk" with a Board member.  You can contact us at info@silverwoodpark.org to set that up.
Grower Partners! Just for you!

Marbleseed–new branding for Midwest Organic and Sustainable Education Service (MOSES).
From our friends at  MOSES (Midwest Organic and Sustainable Education Service)--
Building Community Online
Marbleseed (formerly MOSES) is collaborating with partners to create the Ag Solidarity Network, a platform of knowledge exchange, advancement, and sharing of practices that work for farmers to succeed. The platform will be free for farmers to use: post pictures, ask questions, and receive notifications. The platform will centralize conversation threads between the various groups and facilitate networking.

MOSES Organic Farming Podcast
Dive into the most relevant topics of sustainable and organic farming through interviews with farmers and ag professionals with the MOSES Organic Farming Podcast, as well as audio from MOSES Conference workshops and field days. Organic Specialist Chuck Anderas hosts this podcast.

Conferences, Events, and More of Interest to People who Love Our Local Earth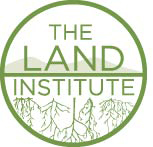 Prairie Festival 2022 – The Land Institute, Salinas Kansas, September 23-25
The Prairie Festival is a live, in-person (and live streaming) event from  The Land Institute in Salina, Kansas. This year's program will explore themes of movement, new roots, and how we can adapt and create the tools we need for a livable future.
The Land Institute is a science-based research organization working to develop an alternative to current destructive agricultural practices. Our work is dedicated to advancing perennial grain crops and polyculture farming solutions.
For more information, visit https://landinstitute.org/news-events/prairie-festival/
If you know of upcoming events of interest to growers, gardeners, and fans of regenerative agriculture, please let us know!