Thanks for your interest in volunteering!
We welcome volunteers to help us fulfill the Silverwood mission.
Volunteers are the foundation of the Friends of Silverwood Park. They care about the land, our community, and being of service. Everything we've been able to accomplish is due to volunteer efforts. If you are a volunteer, thanks for your support! I invite others who are interested in Silverwood and our mission to join our team. You'll find much of what you need to get started here and on our
announcements
page. Please join us, we'd love to have you!
Contact us at
volunteer@silverwoodpark.org
---
See our Announcements page for up-to-date volunteer opportunities and upcoming workdays.
---
Stay in the loop! To sign up for our e-letters, where we announce volunteer opportunities, and other fun happenings at the park, click
here
.
Ready to get started?
Fill out and return our application, and Dane County Parks waiver to volunteer@silverwoodpark.org
Ongoing Opportunities
Organic gardening – grow health food
Invasive species management – diversify the park's species
Oak savanna restoration – assist with conservation
Farmstead buildings cleaning & maintenance – make the park look good
Friends of Silverwood Board membership – help us steer the park
View or download the Volunteer Handbook here.
We hope to see you at the park soon!
---
Volunteer Spotlight
From Sarah Barlow, who served as our Volunteer Coordinator for the 2021 season, thanks to a grant from the Dane County Parks Foundation.  Sarah presented this information at our Volunteer Appreciation Event on November 13th.
Thank You, Silverwood Volunteers!
Many thanks to the volunteers who helped us during our 2021 season! Despite navigating a pandemic while trying to stay safe, we were able to accomplish so much at Silverwood. Volunteers worked on so many projects this year including woods restoration work, gardening, managing garlic mustard and thistle, summer school, tending to trails, cleaning the farmstead buildings, orchard care, website work and helping with events like our mushroom inoculating workshop, Freshman Summit, and Harvest Fest.  
In 2021, 56 people volunteered their time to lead or help with the many tasks and projects that make Silverwood Park a vibrant outdoor innovation laboratory as well as a beautiful recreational area. Nearly 2500 hours of volunteer time were logged to Track-It-Forward, the time-tracking platform instituted this year. Note that the following these statistics, drawn from Track-It-Forward, don't include the quantity of volunteer time given by those who haven't chosen to engage with the tracking system.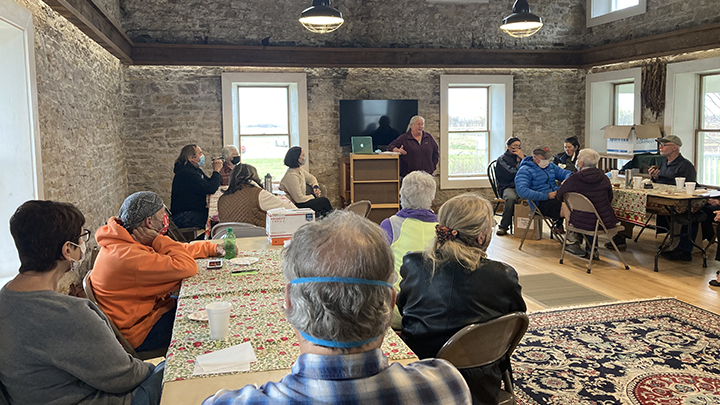 Our 2021 Volunteers:
Beth Dibbert
Trudy Spike
Liv Von Blomberg
Nancy Moskal
Joseph Moskal
Ronald Anderson
Trent Crouch
Wayne Pauly
Tom Spike
Dan Bussey
Pat Severson
Judy Hanlow
Kelly Challis
Tom Poole
Kohl Cruz
Dayne Cruz
Griffin Siegert
Gini Gehant
Cheri Trick
Paul Johnson
Chris Scharlau
Ingrid West
John Peck
Kerry Froelich-Mueller
Kim LaPaglia
Lauren Barlow
Megan Veldkamp
Tom Harding
Jaime Gutierrez
Connie Bussey
Jenny Cruz

Brilliant Sunflower: 15+ Hours
Ed Grote
Mike Woller
Janice Redford
Tom Northey
Dan Dibbert
Bobbi Johnson

Blossoming Butterfly Weed: 30+ Hours
Paul Kersten
Ruth Flescher
Barb Schuetz

Rich Elderberry: 50+ Hours
Kyle Richmond
Wendi Kent
Sarah Barlow 
Linda Lipinski 

Steady Oak: 80+ Hours
Barb Gausman
Rita Fox 
Mike Meier 
Yoshi Saimi 
Katie Whitten 
Sarah White 
Kirsten Almo 
Mark Gausman
John Steines
Recognized for extraordinary time given to Silverwood Park were Yoshi Saimi, Mike Meier, and Rita Fox of the Woods Restoration Team and Barb Gausman who led the Edgerton Summer School program in addition to serving on the board.
Thank you to the Board and staff of Silverwood Park: board members Rita Fox, Kirsten Almo, John Steines, Barb Schuetz, and Barb Gausman, and staff members Katie Whitten (park manager), Kyle Richmond (resource developer), and Sarah Barlow, Volunteer Coordinator.
---
Explore volunteering!
To send a message, fill out the form below. Our volunteer coordinator will be in touch.
---