Educational programming at Silverwood Park recently received a boost from the federal USDA in the form of a Sustainable Agriculture Research and Education (SARE) Grant.
The Friends of Silverwood Park (FoSP) will use the $4000 Youth Educator grant to pay for upgrading summer school curriculum in 2021 to teach kindergarten through eighth grade students about principles of sustainable and regenerative agriculture.
SARE is a competitive grant and education program funded by the USDA's National Institute for Food and Agriculture. This grant award is Silverwood's first from SARE.
"I love the partnership that has been developed between the school and the park- the positive outcomes from the joint program will be a win for both organizations," wrote a grant evaluator for the North Central Region of SARE, administered through the University of Minnesota.
Silverwood Park has hosted a summer school program for the Edgerton School District (ESD) for six of the last seven years. It has slowly expanded from upper elementary grades to lower elementary, middle school and Kindergarten students. In 2020, in-person summer school was cancelled, but replaced with a school family gardening program that served nearly 30 families.
Long-time ESD teacher Katie Whitten is an FoSP employee and coordinates the summer school program.
"Support from SARE will boost our efforts to help students pay attention to where their food comes from, in a meaningful way," Whitten said.  "We will also enhance their opportunities to learn about a wide range of jobs and vocations that involve agriculture."
Possible topics for new curriculum are: Composting, crop rotation, agroforestry, cover crops, soil health, no-till planting & soil erosion, water management, mulching, pest management/beneficial insects, plant selection/companion planting, weed management, "foodprints" (a person's personal food system impacts)/making food choices, and global food systems.
The grant will help pay for plants, class materials, and stipends for presenters with agricultural expertise, as well as coordination and planning labor hours.FoSP anticipates longer-term benefits will result.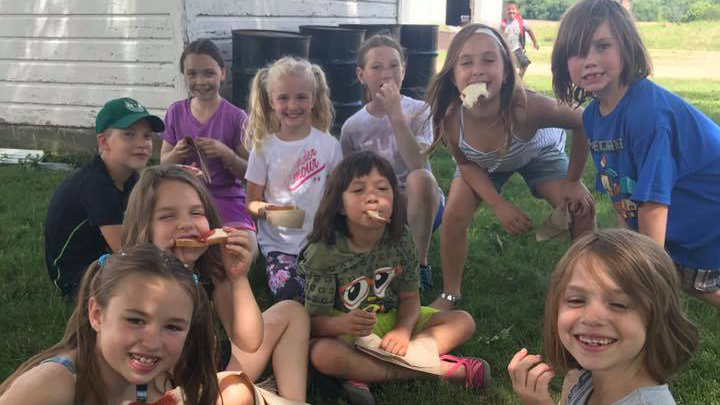 "While the summer program is fairly short, we impact students' thinking and practices about their food and the earth over time," Whitten said. "And the knowledge they take home impacts their families and the community at-large, too."
Registration for ESD summer school begins in April.The Friends intend to eventually expand summer school programming to high school students and to students from other school districts.
Silverwood's focus on regenerative agriculture education is designed to serve three audiences: the general public (park visitors of all types), K-12 students, and farmers/growers.  FoSP has a goal of presenting all "teaching points" to all three audiences, albeit through likely different media, including signage, workshops, classes, annual park events, displays, etc.
Summer school students at Silverwood benefit from an intersection of projects taking shape at the park that help to inform the curriculum.  Silverwood's "Grower Partners," who rent tillable land in the park, include a large-scale organic farmer, small-scale growers and a grower of heritage Native American crops.  The park also includes a row-cropping demonstration area maintained by the Savanna Institute, which promotes agroforestry in the upper Midwest, which shows the benefits of polycultural planting.
Learners at Silverwood may also benefit from activities aimed at re-establishing an oak savanna, which once was the dominant ecosystem in the area.  And installation of an heirloom apple orchard will begin in 2021 at the park, which will further encourage students to learn about a variety of work in agriculture.
FoSP Board member Barb Gausman, an ESD teacher for 35 years, also is working on the new curriculum.
"The youth educator grant will give us a chance to improve our efforts to connect the dots for students between soil health and human health," Gausman said. "And we will look ahead to providing regenerative agriculture education to more students, both in this school district and outside it."
Silverwood Park is a collaborative effort of the Friends of Silverwood Park, Inc., a non-profit organization, and the Dane County Parks Division.  FoSP was formed in 2013 and incorporated in 2014. For more information, contact FoSP at info@silverwoodpark.org.