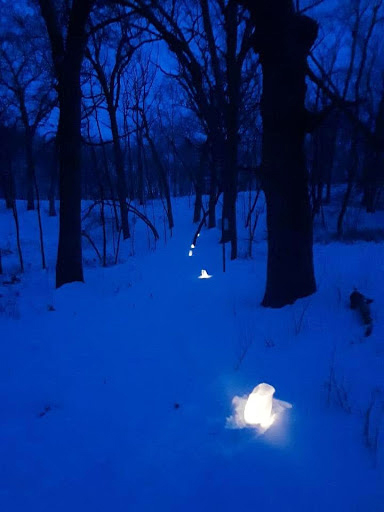 Join Friends of Silverwood Park for a candlelight hike through the farm fields, prairie, and woods. Celebrate the joys of winter (safely distanced outdoors) with warming fires, music at the farmstead, and refreshments for sale.
No registration required.
Suggested donation: $2.00.
Donations of any amount are appreciated and will be used by Friends of Silverwood Park to help fund the replacement of windows in the Stonehouse Visitors' Center. Read more about that project here.
Click here to view/download a flyer about the Candlelight hike.
Back to Events
2022-02-26 17:30
2022-02-26 21:00
America/Chicago
Candlelight Hike
Join Friends of Silverwood Park for a candlelight hike through the farm fields, prairie, and woods. Celebrate the joys of winter (safely distanced outdoors) with warming fires, music at the farmstead, and refreshments for sale. No registration required. Suggested donation: $2.00. Donations of any amount are appreciated and will be used by Friends of Silverwood Park […]
77 Silver Lane, Edgerton WI 53534
whitesarah.cnf@gmail.com